PIONEERS IN THE RENTAL OF LUXURY CARS WITH A DRIVER SINCE 1950 IN MADRID AND THE WORLD
All our vehicles have a uniformed driver and premium finishes, from sedans to minibuses. The service will be tailored to your needs, you indicate the route and we will take care of it with maximum excellence and efficiency.
CAR RENTAL WITH PRIVATE DRIVER IN MADRID
LUXURY VEHICLES AT YOUR SERVICE
OFFERING GUARANTEED SERVICE IN CITIES LIKE MADRID, BARCELONA, MILAN, NEW YORK, ETC ... WITH THE BEST CARS ON THE MARKET AND QUALIFIED PROFESSIONAL DRIVERS FOR YOUR ENJOYMENT AND COMFORT
Headquartered in Madrid, autos américa offers a large fleet of luxury vehicles with a driver for any private transport need that may arise both nationally and internationally. The routes made are tailor-made for you, so you will not find time or distance limits, being able to contract short and long distance services to the destinations you choose. In addition to the chauffeur service and if you wish, you can count on an additional security service, for your total safety and comfort. As it could not be otherwise, our clients will be protected at all times against any unforeseen event with unlimited civil liability insurance and a national vtc license to guarantee the full safety of those who wish to enjoy private transport in its excellence.
Do you need information or a budget to arrange a service?
Tell us your case in detail and we will provide you with a budget for a transport service tailored to your needs with a driver and a high-end car included, either in Madrid or in any other city. You can make your query through WhatsApp in a single click or you can leave us your request in our contact section where you will be attended immediately.
Transport Events and Congresses
We take care of private transportation for staff, guests or participants in events and conferences of any kind.
Transfer Airports and Stations
We schedule transportation for transfers at airports and stations with the greatest punctuality and efficiency.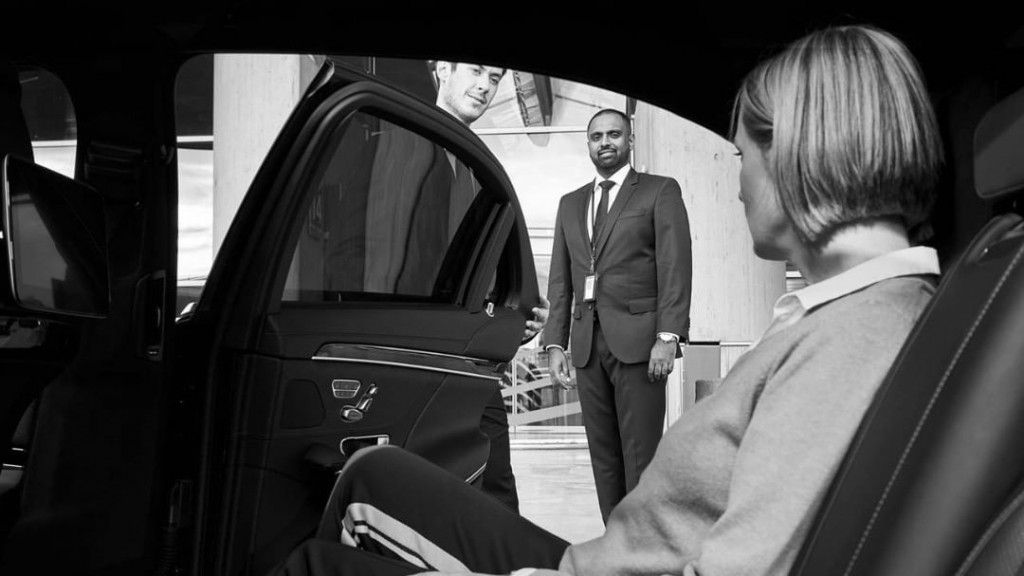 Weddings and Celebrations
If you need a car for weddings and other celebrations, we provide you with a high-end vehicle and driver.
"Professional and discreet drivers, pleasant sensation of tranquility and of being in expert hands."
"Exceptional treatment. The car is always like new, they are polite, cordial, punctual. 100% professionals. I recommend them without any doubt."
"We have been hiring their service for years and we have always ended up very satisfied with them. We hope to continue many more years. Thank you"
we are the pioneer company in Madrid in this service and one of the oldest in Spain offering our clients a premium service of cars with private driver, with national coverage in cities such as Madrid, Barcelona, ​​Seville, Valencia and many more. , expanding our coverage to a multitude of world-renowned cities. If you need to know the cars that we have at your disposal, you will only have to visit our fleet section and find out in detail all the benefits that our vehicles offer, where as always they will have their corresponding uniformed driver ready to serve you. When it comes to renting a car in Madrid, you will have a multitude of options to choose from, but none of them offers the luxury service that autos America offers to its clients and which is recognized today by many of them. Many companies have contacted us so that we can manage the complete transport of executives on their business trips and that their concern is strictly labor, being able to carry out transfer services at airports and stations customized to the flights and trains of each of their guests or workers.
To request any type of information, you will have at your disposal a reservation telephone number and a 24-hour telephone that will provide you with service in any situation that may arise. We want you to enjoy your trip and forget about any transport-related concerns during your trip, visit or event. Remember that you will not find any type of limit corresponding to the time and form in which you will receive your car rental service with driver in Madrid, always counting on the maximum guarantee in the provision of the service as well as in the coverage and safety of our clients. Whether it is to rent a car and its driver for a wedding or to cover private transportation in any type of event or congress, you will have the maximum assurance that the contracted service will be offered with full guarantees, seeking your full satisfaction. It is worth mentioning that the private transport offered by autos America is not only limited to utility cars, there is also the possibility of group transport in minibuses, minibuses or coaches for those situations in which the car service with driver in Madrid or Any other part of the world is sued by groups of people.